back
SIMICA Lectures
Upcoming Lectures
Raphaël Rodriguez, Institut Curie, France, 30-01-2023
Next Monday, Raphaël Rodriguez will present his most recent work about the prevalent role of d-block metals in the regulation of cell plasticity, entitle "Discovery of a metal-driven signaling pathway that regulates cell plasticity". Do not miss it.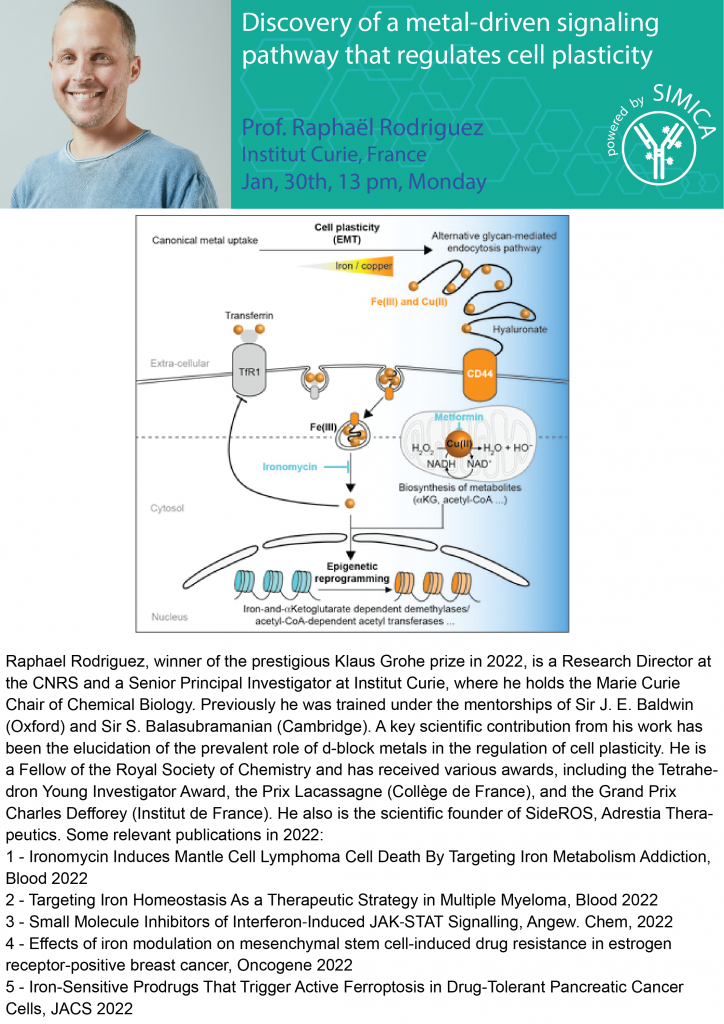 ---
Career pathways seminar on Oct 2022
Next Tuesday, 11th October, we will have David Shoultz, PhD MBA speaking at IMM. David is the Chief Operating Officer & Co-Founder of Monod Bio, Inc, a startup biotech company dedicated to the development of biosensors for disease diagnostics. He will give a seminar at 1pm (room 32, 3rd Floor, Egas Moniz Building), entitled "Strategies for Success in the Life Sciences".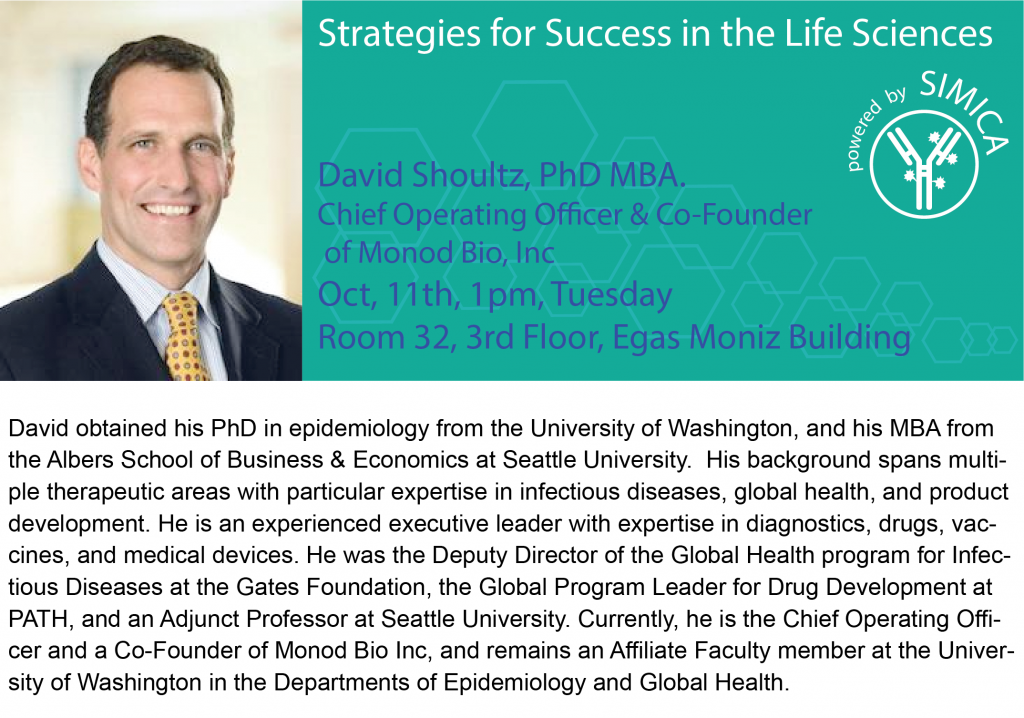 ---
Stuart Cantrill, 24-01-2022
Career pathways seminar
The SIMICA´s Seminars on Career Pathways invites speakers to discuss their path from Chemistry/Biology degrees to their current position, as well as to educate students about opportunities outside of academia. In this lecture Stuart Cantrill, Chief Editor of Nature Chemistry, spoke about publishing in science.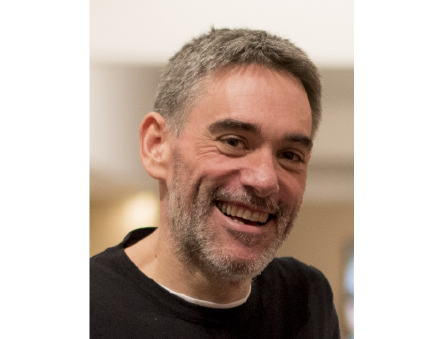 ---
Alan Chan, Percuros, 10-12-2021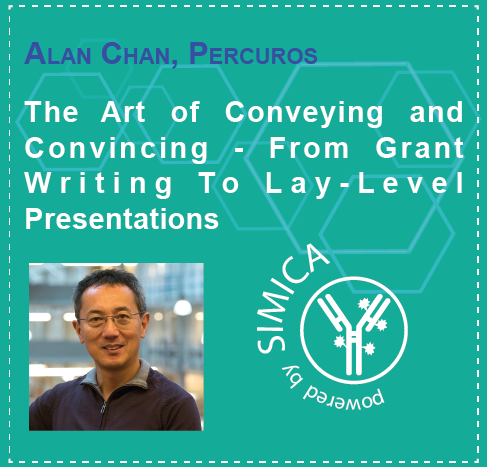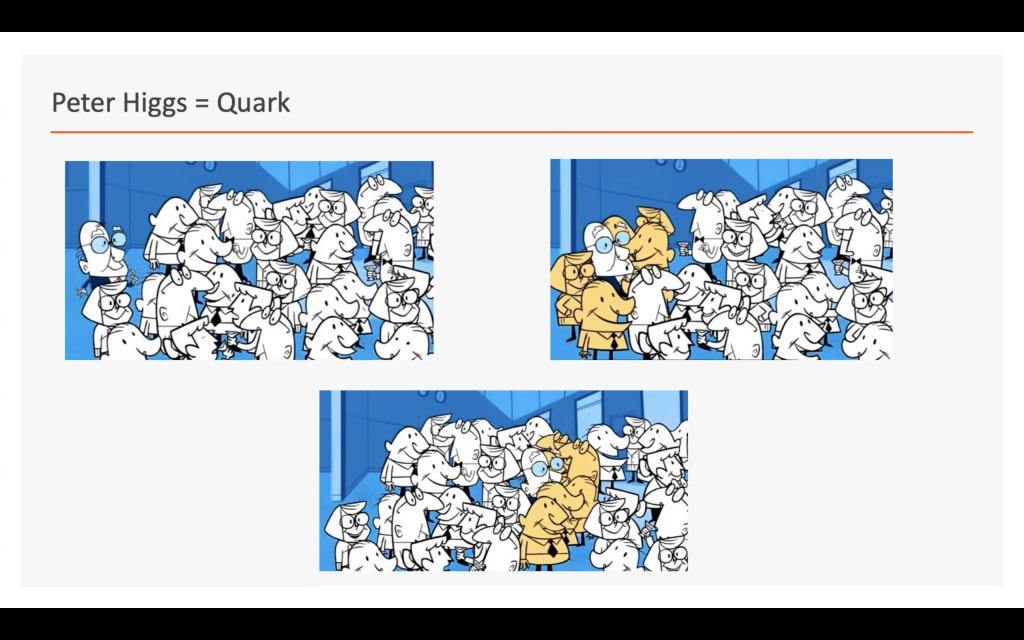 ---
Gonçalo Bernardes, Ucam, 5-11-2021
Translational Chemical Biology
---
Daniel Zaidman, UCAM, 04-09-2021
Computational design of antibody conjugates with increased target specificity and affinity
---
Silvia Sobol, PERC, 28-07-2021
Mechanisms and applications of bioluminescence for in vivo imaging
---
Mar Cabeza-Cabrerizo, UCAM, 26-05-2021
Development of multiparameter medical imaging tools for cancer diagnosis
---
Pablo Lara, PERC, 21-05-2021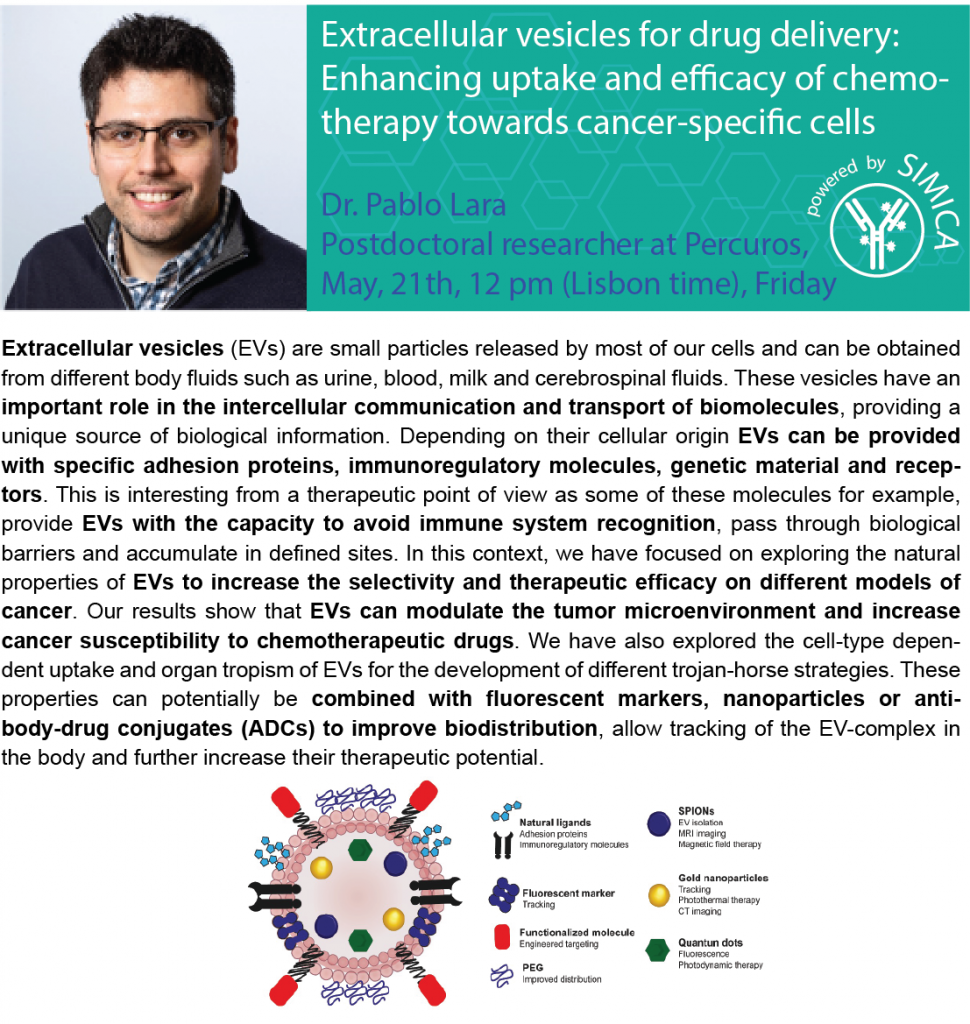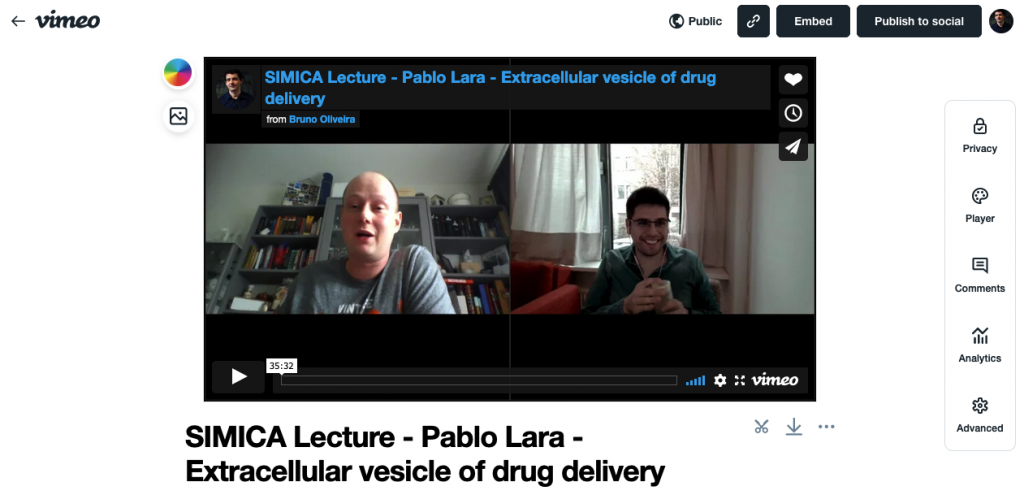 ---
Nikolaus Krall, ALLCYTE, 11-02-2021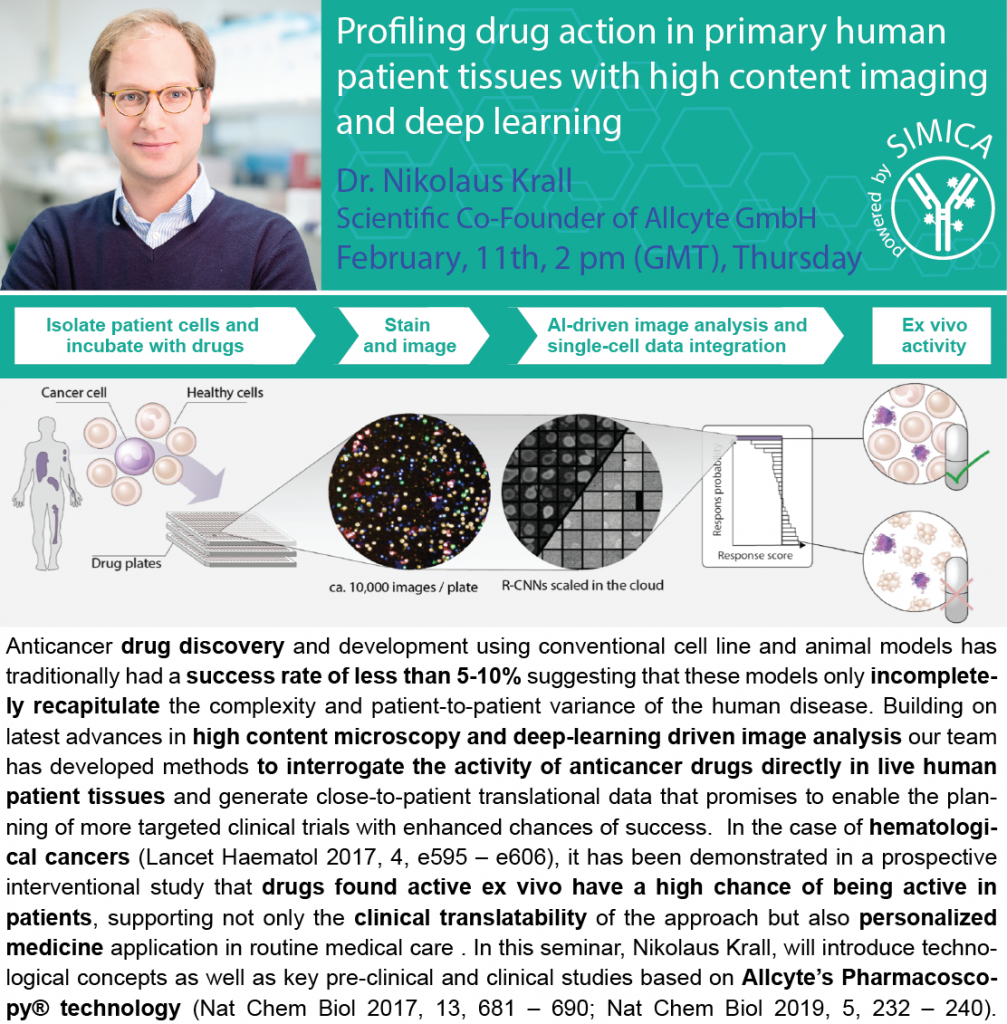 ---
Luis Cruz, LUMC, 26-01-2021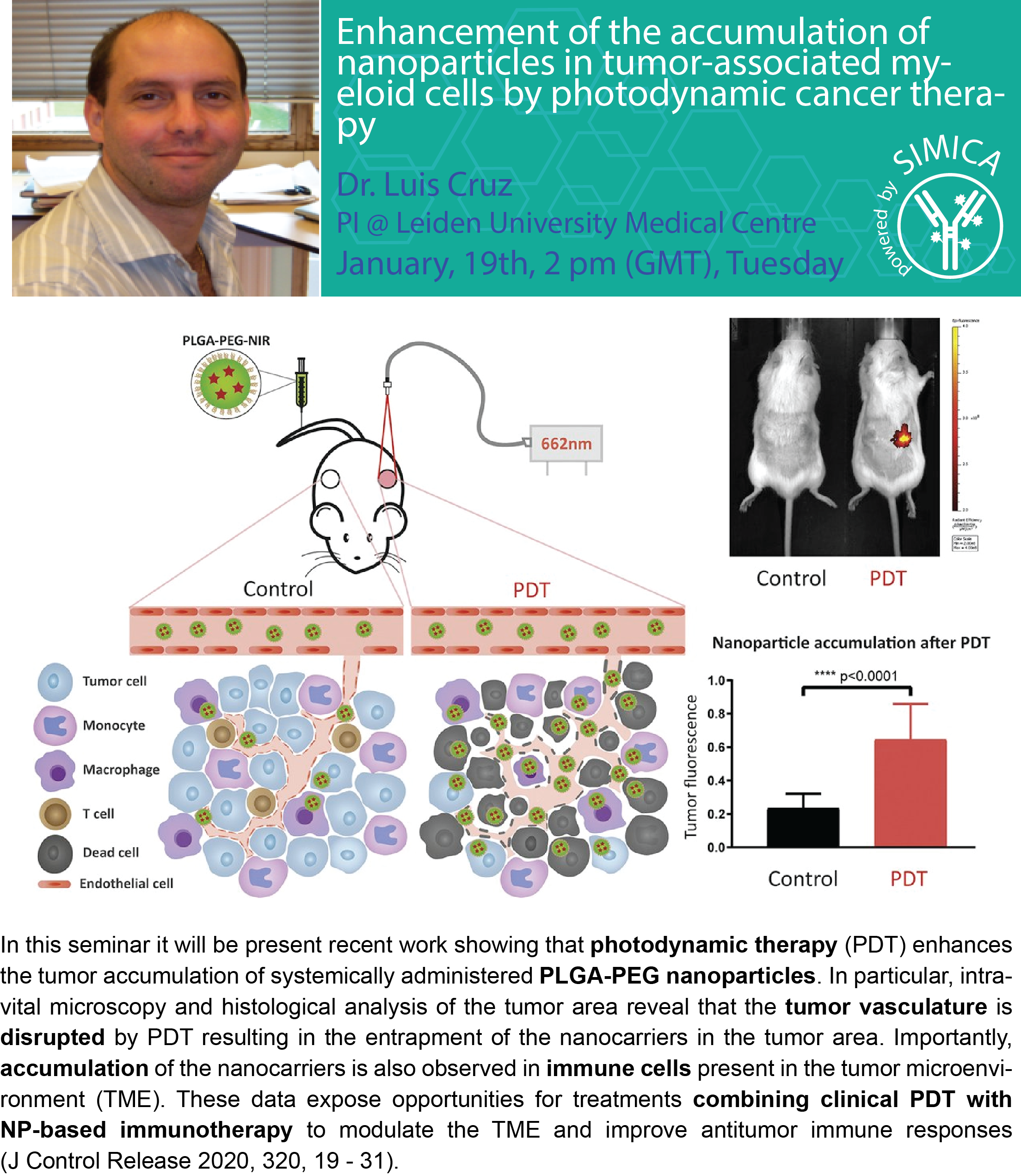 ---
Nikolaus Krall, ALLCYTE, 22-10-2020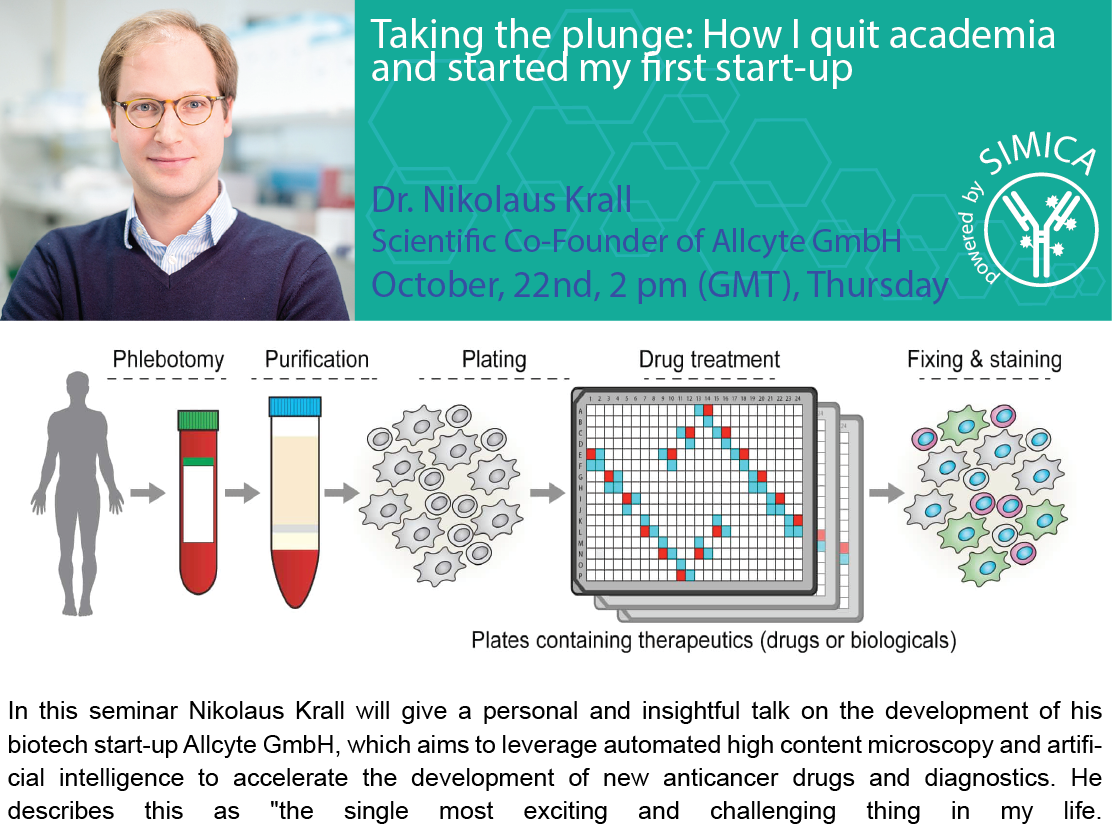 ---
First annual SIMICA meeting, 20-10-2020
- Introduction to optical, ultrasound and photoacoustic imaging (Alan Chan, PERC)
- Application of proteomics in the discovery of cancer biomarkers (Katja Bierau, PERC)
- Anti-cancer targeted therapeutic (Gonçalo Bernardes, UCAM)
---
Gonçalo Bernardes, UCAM, 07-10-2020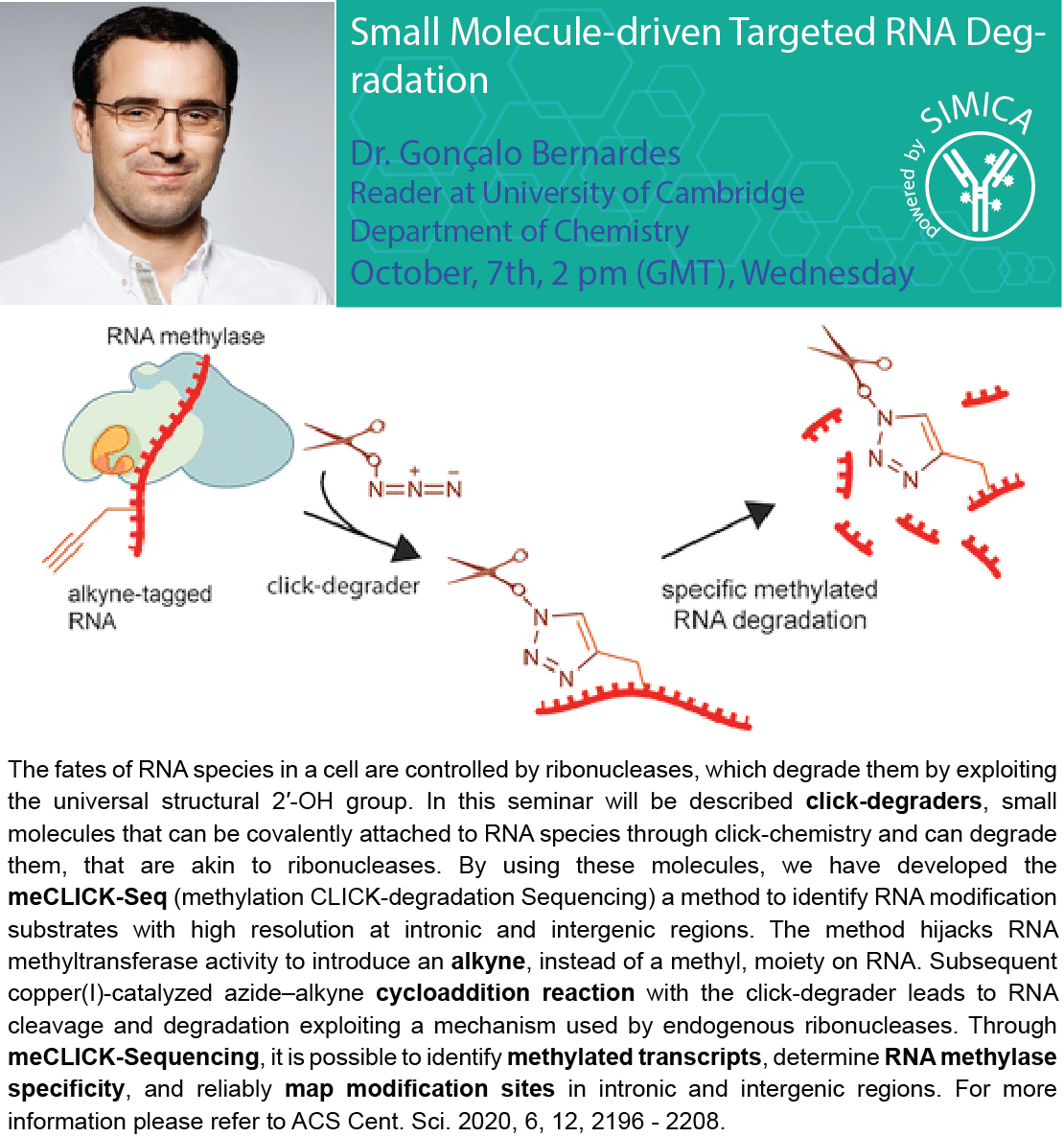 ---
Gonçalo Bernardes, UCAM, 20-02-2020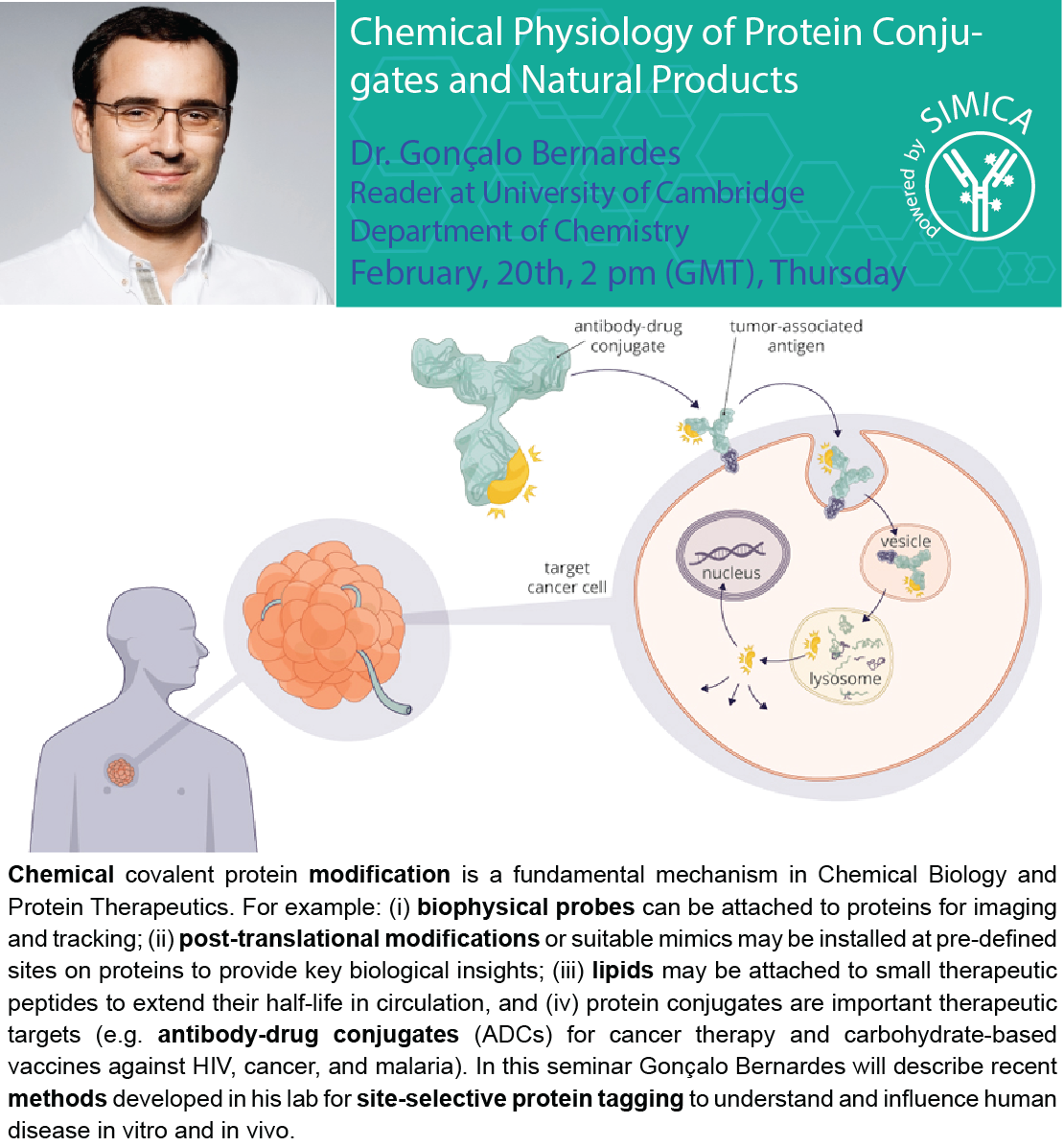 ---
Gonçalo Bernardes, UCAM, 18-02-2020
Cysteine site-selective modification methods
---
Alireza Haghparast, PERC, 06-02-2020
Application of two-photon excited NIRF probes for in vivo ADC monitoring
---
Gonçalo Bernardes, UCAM, 24-01-2020
Lysine site-selective modification methods
---
Cornelis Sier, PERC, 07-01-2020
Molecular guided imaging of tracers in cancer
---
Cornelis Sier, PERC, 06-01-2020
Workshop on scientific writing for grant application
---
SIMICA Kick-off meeting, 28-10-2019
- Molecular imaging of disease (Bruno L. Oliveira, iMM)
- CORMs – from bench to clinic (Alan Chan, PERC)
- High-throughput screening for biomarker discovery (Katja Bierau, PERC)
- Front loading the risk of anticancer drug development with Pharmacoscopy® (Nikolaus Krall, ALLCYTE)
- Nanomedicine and immunotherapy (Luis Cruz, LUMC)
- Site-selective chemical protein modification for basic biology and drug development (Gonçalo Bernardes, UCAM)
---
INSPIRATIONAL LECTURES
Michele Vendruscolo, 20-05-2021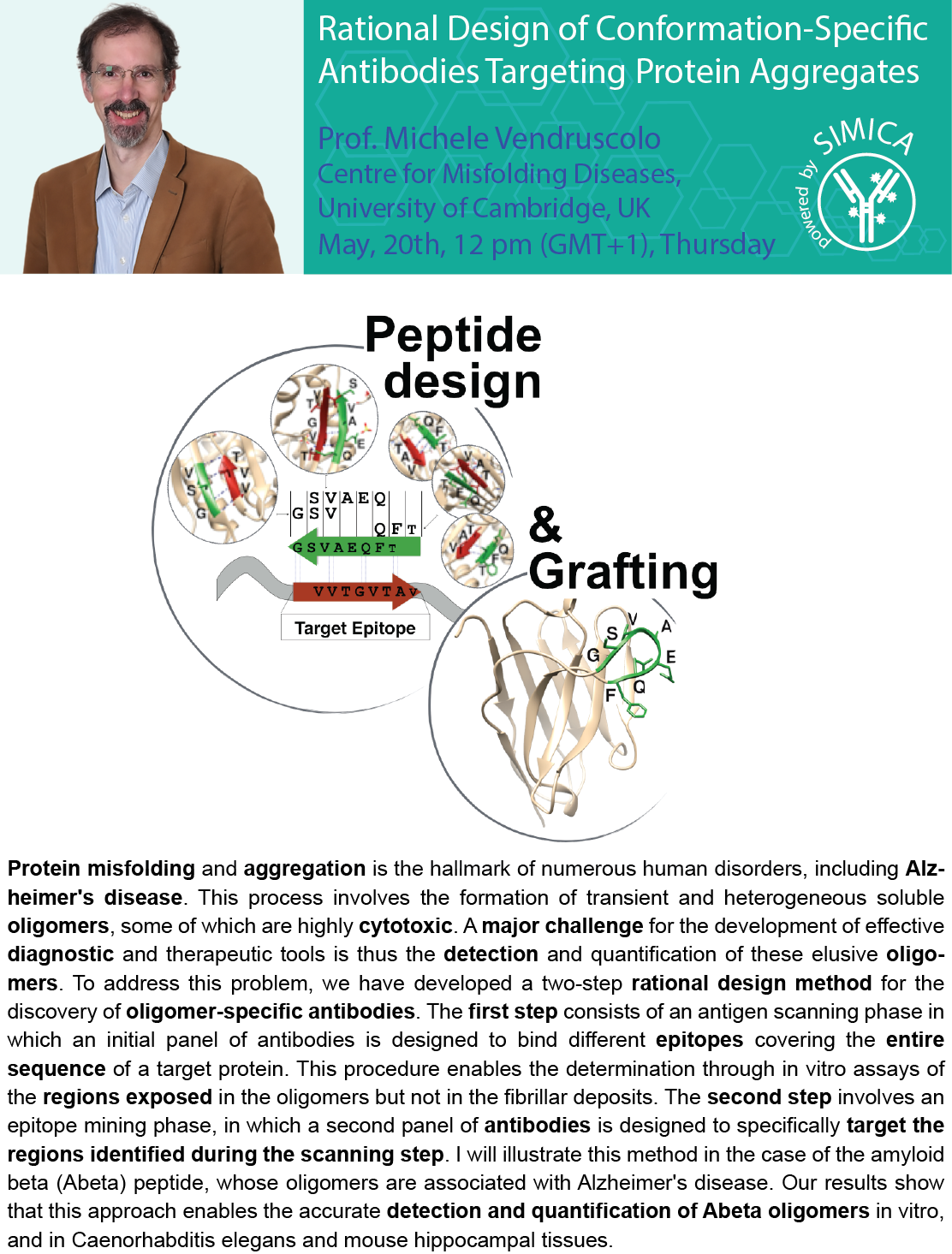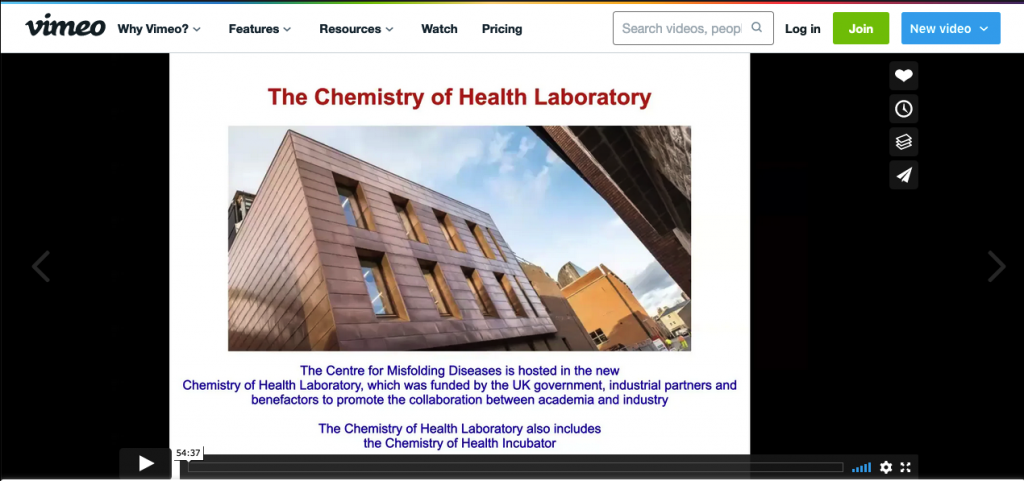 ---
Christian Becker, 23-04-2021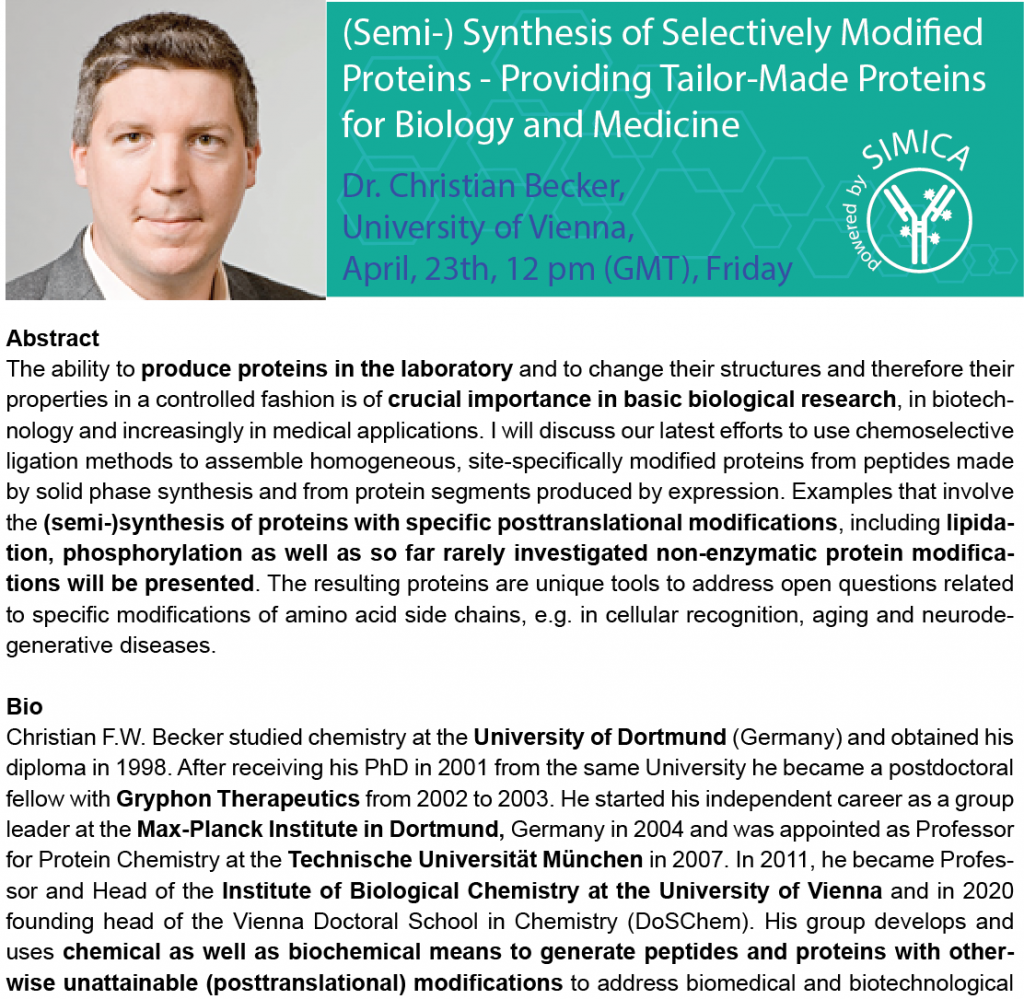 ---
Joana Lobo Antunes, 09-04-2021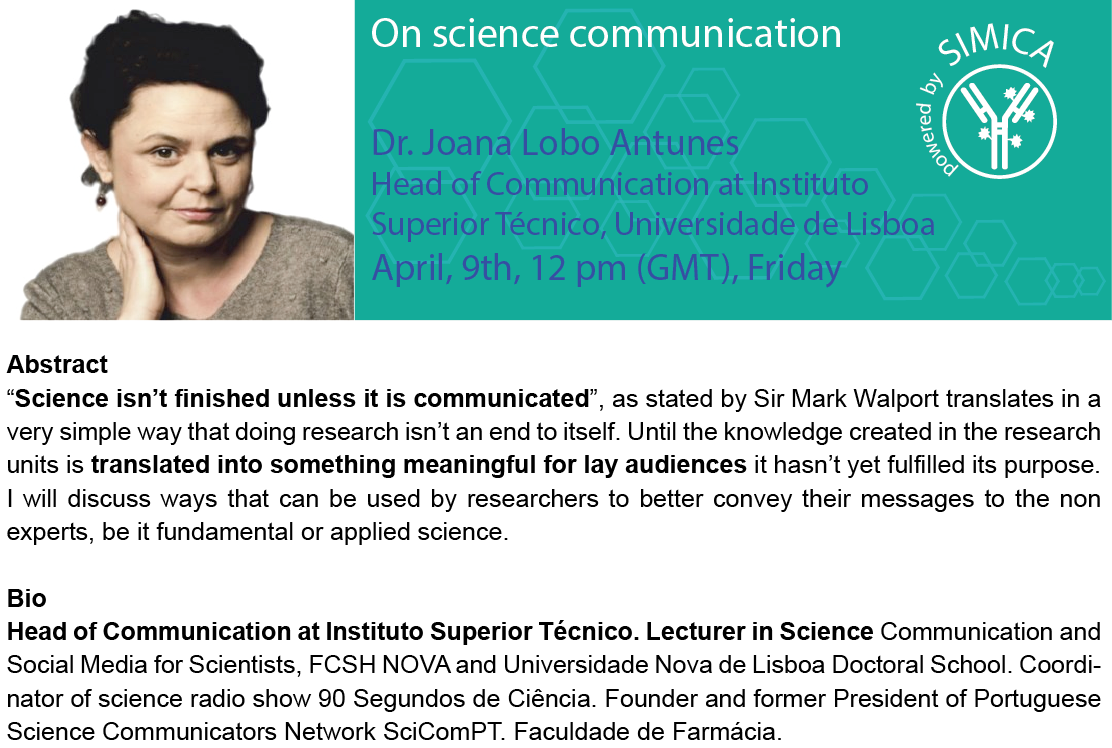 ---
Vishal Rai, 19-03-2021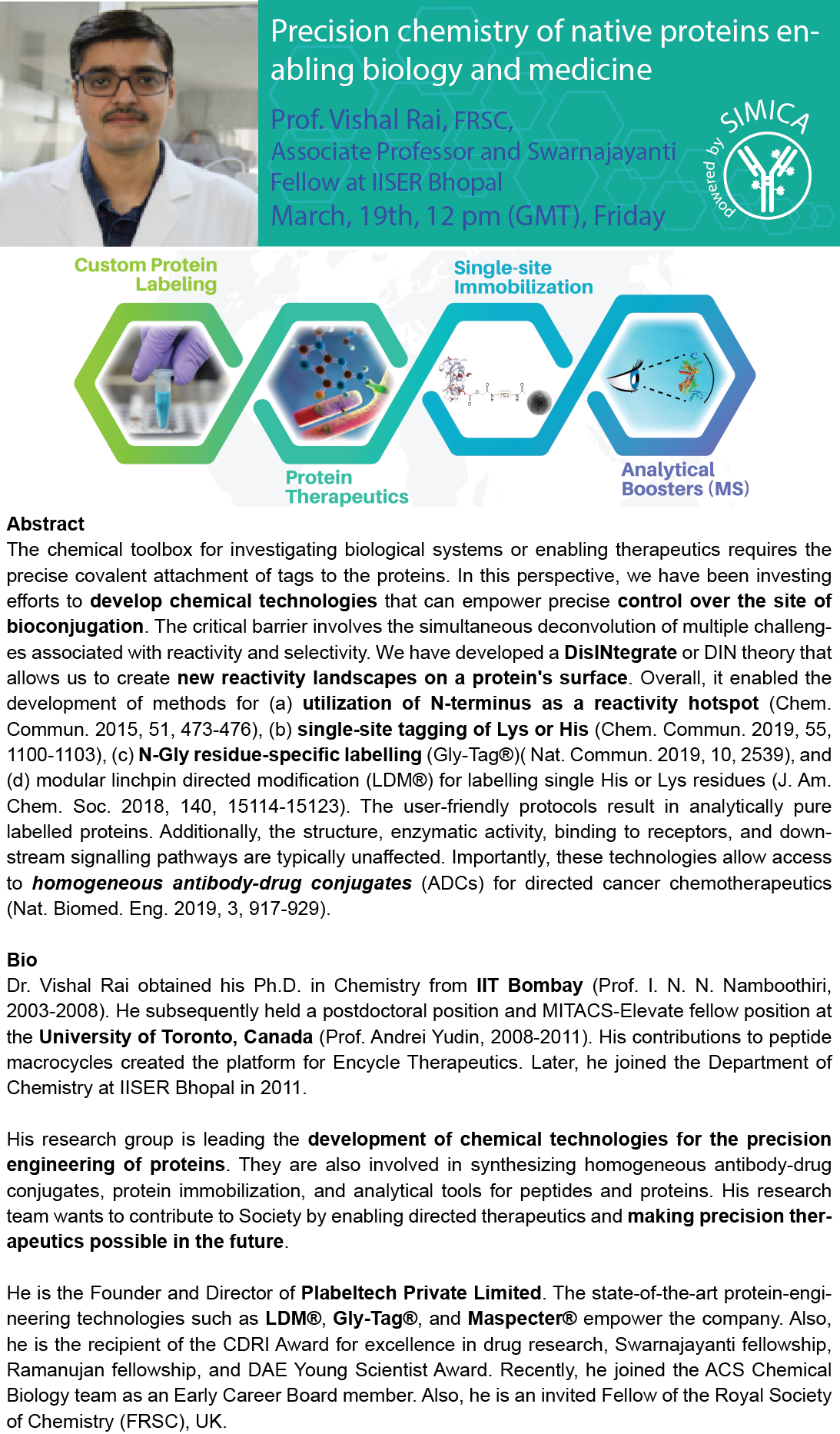 ---
Ruben Ragg, 12-03-2021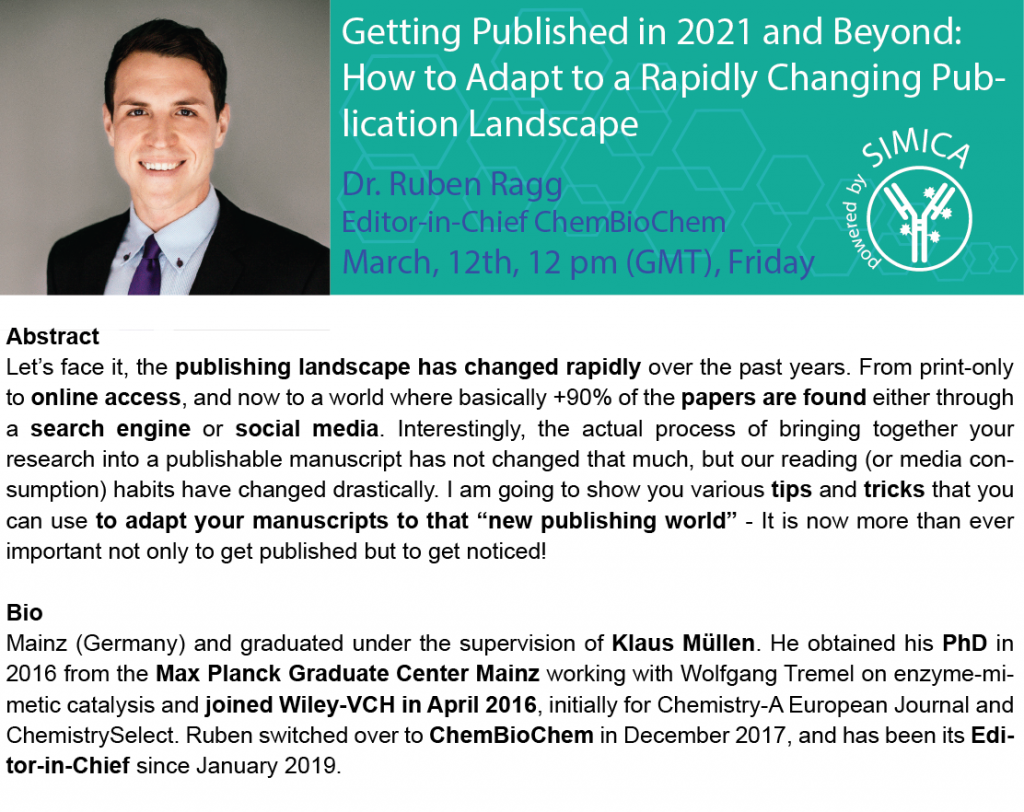 ---